A new article in Stem Cell Research & Therapy confirms that stem cells like those found in the umbilical cord are "safe", "effective" and have "great treatment potential" for large non-healing burns wounds.
Wound healing is the most important determinant of post-burn survival. For decades, allogeneic mesenchymal stem cells (MSCs) have been suggested as a potential treatment for severe burn injuries.
This new study describes a patient with a severe burn injury whose wounds did not heal with over 18 months of conventional burn care. When treated with MSCs, the patient's wound healing accelerated and the patient suffered no adverse treatment complications over a 6-year follow-up period.
Umbilical cord stem cells for burns
The umbilical cord and amniotic membrane are abundant in MSCs, stem cells with the ability to transform and multiply into other human tissue cells.
Collecting MSCs from umbilical cord tissue is non-invasive, non-controversial and low-cost. Cord tissue can be collected following birth, even in the case of delayed cord clamping and natural third stage, with no health implications for the mother or baby.
MSCs from cord tissue can be easily grown and maintained in tissue culture. Once administered, these cells are able to migrate to the source of tissue damage to support stem cell repair.
Additionally, thanks to their immunosuppressive properties, umbilical stem cells are able to withstand rejection and are associated with a low incidence of graft versus host disease.
Case report: Patient with 70% burns
The study focuses on a male in his mid-twenties who was admitted to a local, tertiary care centre with 70% TBSA burns, mostly full thickness. He had also sustained smoke inhalation injury as a result of a house fire.
The patient had sustained burns to the chest, back, bilateral arms, hands, thighs, feet, and buttocks. Initial surgeries included escharotomy and amputation of both feet. The patient had a total of 13 surgeries for excision and application of skin grafts, a tracheostomy, an ileostomy, and a percutaneous gastrostomy tube placement. During this time, the patient developed chronic infections with multi-drug resistant Pseudomonas. His pain management had also become increasingly complicated.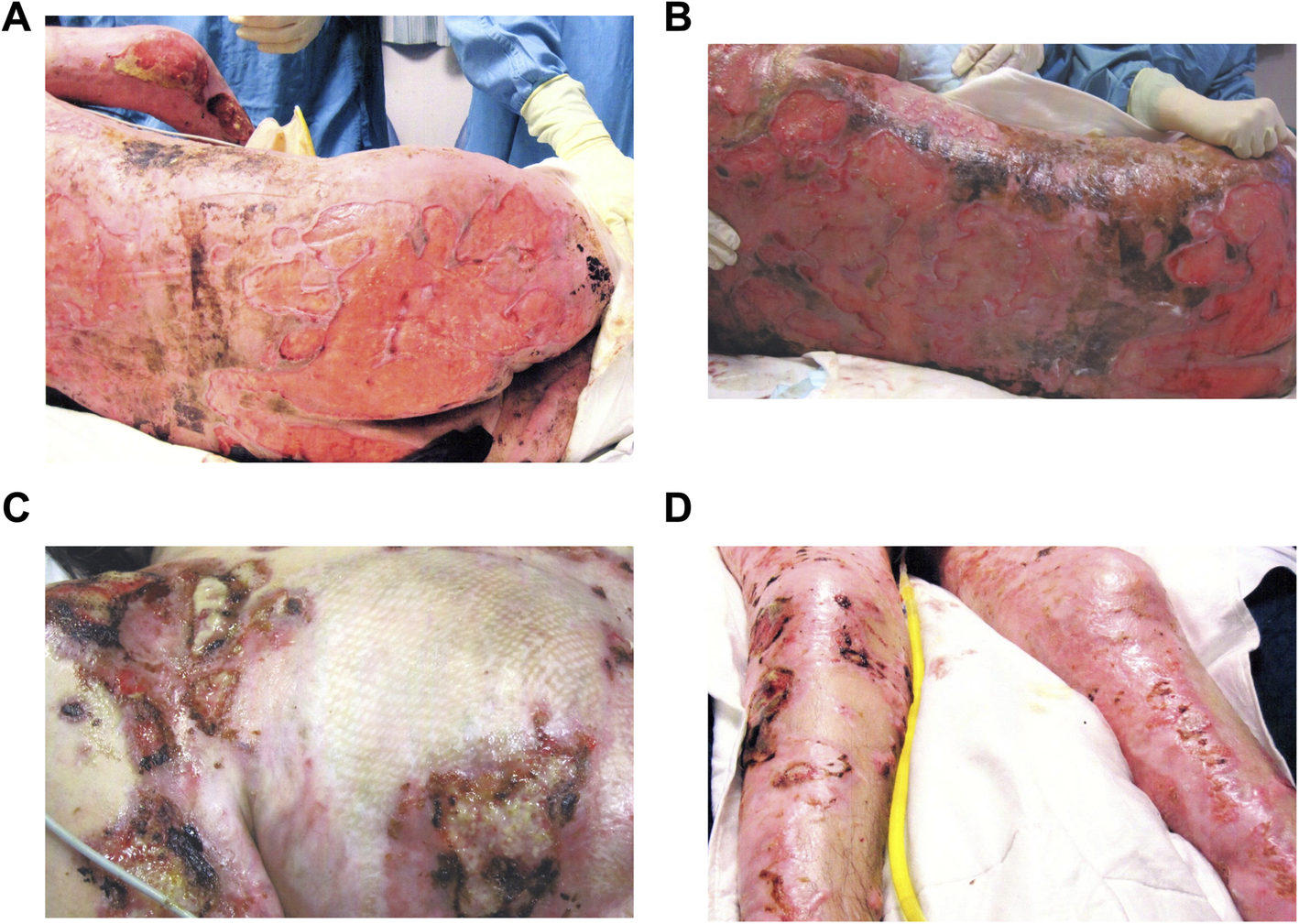 Eighteen months post-injury, more than a third of the patient's initial wounds remained open and were severely infected with bacteria. At this point, the patient was transferred to a specialized burn centre.
Following stem cell therapy
A novel treatment approach was needed to heal these wounds. The team (Marc G. Jeschke, Sarah Rehou, Matthew R. McCann & Shahriar Shahrokhi) decided to use umbilical stem cell transplantation from two donors, hoping to induce an immune response to clear the patient's infection. The doctors also believed the cells would stimulate the release of growth factors which would accelerate wound healing.
Three weeks postoperatively, the attending staff surgeon determined that the patient's open wounds had decreased to approximately half of the original size and showed significantly decreased infection. The patient was given a second MSC injected at this stage. One week later, the patient's open burn wounds had decreased to about one seventh.
Two months after the second MSCs treatment, less than 3% of wounds remained open, at which point a final surgery was performed in order to autograft from the remaining wound using the patient's scalp skin as donor. Five months after admission to the specialist burn centre and four and a half months since the initial MSCs treatment, the patient was discharged for rehabilitation care with no open wounds.
At a 6-year follow-up, the patient was in excellent health with substantial amounts of complete epithelialization, particularly on the back, buttocks, and bilateral legs. Importantly, there was minimal hyperpigmentation and hypertrophic scarring. The patient maintained excellent ranges of motion and transitioned well into daily activities of living.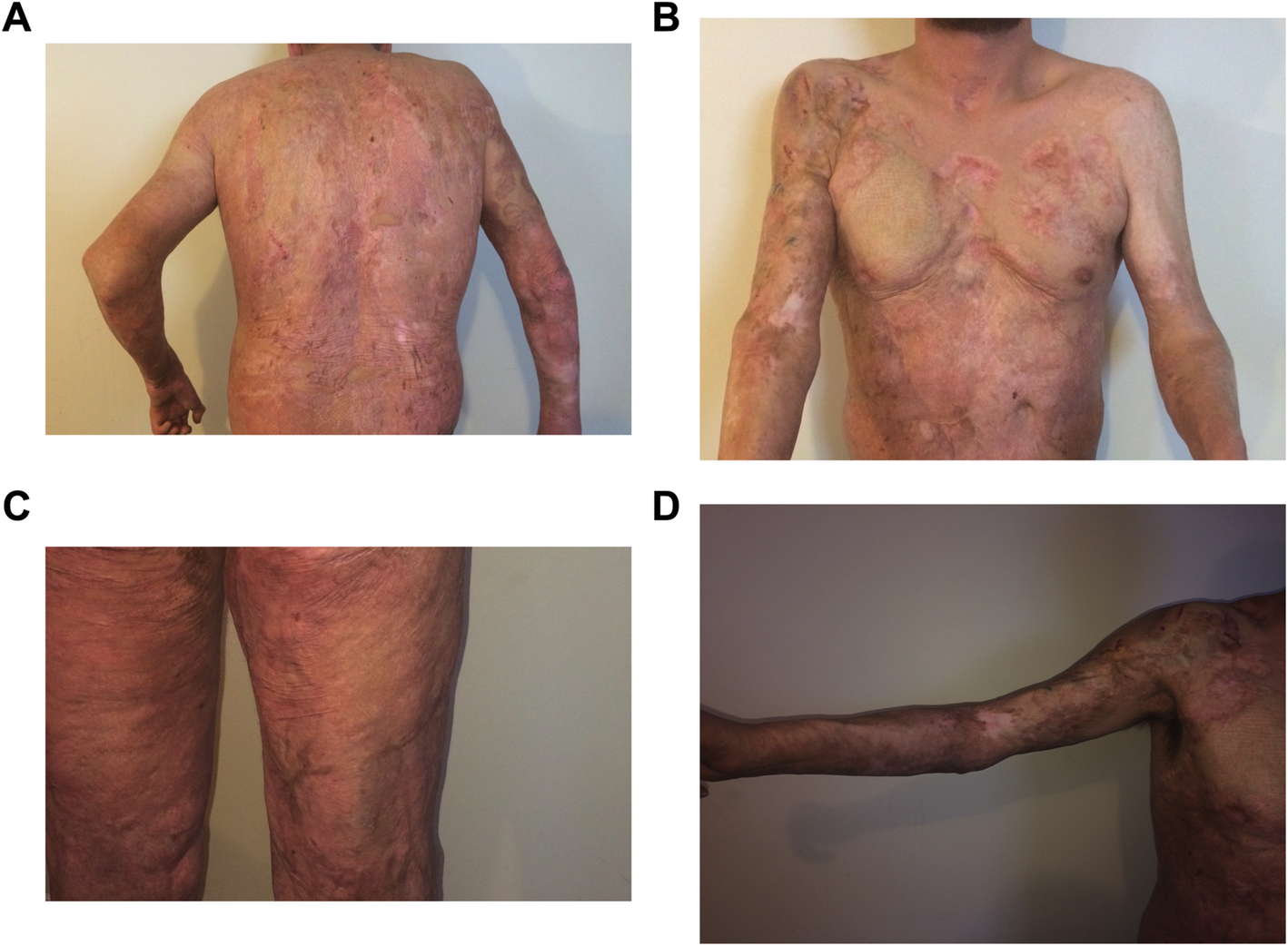 The future of umbilical stem cells for burns
The authors concluded that this case provides evidence that using mesenchymal stem cells for burns:
enables rapid healing of open wounds
avoids long-term consequences of hypertrophic scar formation, which inhibit mobility and have negative psychological effects
The scientists argue that the study demonstrates the "immense potential of MSCs in the acute phase of burn care".
Future research should investigate the efficacy of MSC use in the severely burned patient on a large scale.
BSc (Hons) Microbiology
Chief Executive Officer | Biovault Family
Biovault Family CEO, Kate Sneddon, joined Biovault in July 2009 and became Chief Executive Officer in 2016. As health industry professional her experience includes working as a microbiologist and leader at GSK for over 10 years. Her expertise in cord blood banking has been recognised in her awards, features in Parliamentary Review and Parents Guide to Cord Blood, as well as contributions to research with UCL and others.